Recommend Bradley's obituary to your friends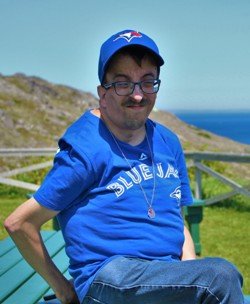 Obituary of Bradley Thomas Dalton
It is with great sadness that we announce the passing of Bradley Thomas Dalton of Marystown on Wednesday, August 7, 2019. Bradley was 35 years old.
Bradley is survived by his parents Stephen and Judith Fay Dalton, siblings Rodney (Sandra – of Kelowna, BC), Tammy (of London, ON), and Lesley (Jody – of Marystown). Also, nieces Micah and Decoah, nephew Shay (Taylor), and great-nephew Wells.
Bradley was born 2 months early on April 25th, 1984 and baptized his life to Jehovah God in April 28th, 2002. He faced many health problems throughout his brief life. He traveled to Montreal at the young age of 18 to have major surgery to put rods in his back, in order to fix a bad case of scoliosis. He also had to travel to Ottawa to have surgery to fix two leaking valves in his heart.
Bradley faced every challenge head on, with firm determination and a strong hope for the future. He knew that if anything happened, he would see his family again in the future after being resurrected here on earth to a beautiful paradise earth (Job 14:14,15 - If a man dies, can he live again? I will wait all the days of my compulsory service until my relief comes. You will call, and I will answer you. You will long for the work of your hands). He knew in that paradise earth everyone would be happy and with no more health problems (Psalms 37:29 - The righteous will possess the earth, and they will live forever on it). He often commented on how he couldn't wait to throw away his glasses and see things clearly for the first time. He had a deep love for his God Jehovah, and often said so.
Bradley brought joy to his family. He had a great sense of humor, and a positive attitude. He was especially loved by the small Marystown congregation of Jehovah's Witnesses. Each member of the congregation had a special bond with Bradley.
He was well loved at his job at Wal-Mart in Marystown, as the Greeter, he was the first person to meet you at the front door with a smile and a shopping cart. Many came and enjoyed having a chat with him about hockey and his favourite team the Montreal Canadiens, and baseball team the Toronto Blue Jays.
Bradley is predeceased by his grand-parents Daniel and Theresa (Best), and Thomas and Nellie (Dalton). Also, his beloved uncle Henry Dalton, and aunt Cavell Faulkner, and sister Denise.
Memorial services will be held at the Kingdom Hall of Jehovah's Witnesses, 116 Ville Marie Drive, Marystown on Saturday, August 10th, 2019 at 2pm. All who knew Bradley are warmly invited to come along and pay their last respects.
Funeral arrangements entrusted to Serenity Funeral Home, Burin "Because We Care."
Funeral Service
2:00 pm
Saturday, August 10, 2019
Jehovah's Witnesses Kingdom
116 Ville Marie Drive
Marystown, Newfoundland and Labrador, Canada