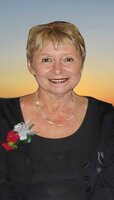 Margaret (Marg) Kearley
It is with great sadness that the family of Margaret (Marg) Alice Kearley of Rencontre East announce her passing at the age of 66 years on August 23, 2022 at her home surrounded by her loved ones.
Leaving to mourn with fond and loving memories: husband John Kearley Jr, son Trevor Kearley of Rencontre East, grandchildren Josh Kearley of Rencontre East, Johanna Mackey of Catalina and Ryder John Kearley of Burin and sister Carmelita Hatter (Bruce) of Rencontre East. As well as numerous nieces, nephews and other family.
Predeceased by daughter Jacqueline (Jackie) Kearley Mackey, parents Albert Oakey and Gertrude (Gertie) Oakey, sister Violet Hardy (Giovannini), brother John Giovannini, Father-in-law John B. Kearley Sr and mother-in-law Hilda Kearley.
The family would like to thank everyone who showed their love and support during this difficult time. A special thank you to her nieces Charlene Hatter and Katie Mullins for providing exceptional homecare and Marg's aunt and dear friend, Marie Hudson (Quann) and a large circle of friends and relatives who were always there. It means so much to the family.
Marg married the love of her life, John (Junior) on July 23, 1976. They had 46 wonderful years together. The two were inseparable and you could clearly see the love they shared. They had two beautiful children together. Marg was a special soul who had a huge heart, an infectious smile and a passion for cooking.
For any type of family gathering you could find Marg in her kitchen cooking up something delicious. She loved her family with her whole heart. Her children and grandchildren were her pride and joy. Her door and her heart were always open to anyone. No one left her home hungry and they always had a smile on their face.
Marg is now reunited with their dear daughter, Jackie. Their family will hold them in their hearts until they can hold them again in heaven.
In keeping with Marg's wishes, cremation has taken place.
Funeral service will be announced at a later date.
Donations in Marg's memory may be made to the family.
Funeral arrangements entrusted Serenity Funeral Home, We Listen, We Learn,We Walk With You.