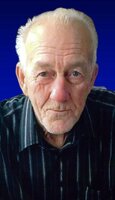 James George Moulton
It is with great sadness that the family of the late James George Moulton of Garnish announces his passing at the Burin Peninsula Health Care Center on Friday, April 1, 2022 at the age of 79 years.
Leaving to mourn with fond and precious memories son William; daughters Valerie Moulton, Karen Moulton; grandchildren eight grandchildren & seven great-grandchildren; brothers Lewis Moulton (Rose), Rex Moulton Jr (Velma); nephew Derrick Moulton; niece Lisa Duncan (Torquil); special friend Lorraine Whitters plus a wide circle of other family and friends.
Predeceased by wife Elsie Moulton, parents Rex Sr. & Cluda Moulton; brother Leo George Moulton; nephew Terry Moulton.
James is a special man. It's a tribute to him that while we all know he is an accomplished woodworker...the first thing we all thought of when remembering is his great wit, sense of humor, and strong dedication to his family. He would make toys for his brothers when they were small and he made two guitars for himself and his friend. He was a generous and kind-hearted soul; he would give of himself to those in need, whether it was a friendly conversation or helping out around he would never take anything for the help. He would never have to be asked to help someone out, he just knew.
In Keeping with James wishes cremation will take place. A remembrance service will take place at a later date.
Funeral arrangements entrusted to Serenity Funeral Home, Burin.
We listen. We learn. We walk with you.
Woodworker's Prayer

You guide my heart and You guide my hands
I lovingly craft what You have created
Into something that will be treasured

The hours spent working the wood from Your earth
Are my gifts to You and to others
You blessed me with this ability
For that, I am eternally grateful

You gave your only son for me and all others
I am giving you my soul to do your bidding
Look after me Lord, as I work with your wood

When the time comes for me to leave this earth
I pray you welcome this woodworker's soul
To rest by your side for eternity
And keep me safe in Your arms.
Amen.