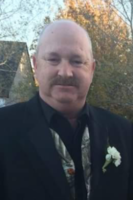 John Louis Francis
It is with great sadness the family of John Louis Francis announces his passing surrounded by his family after a brief illness on December 14th at the Health Science Center, St. John's at the age of 58 years.
Leaving to mourn his wife Anne Marie of 43 years; children whom he loved and cherished Vanessa of Mount Pearl, Bernice (Brad) of High Level, AB, and Louis (Aimee) of Mortier; most of all his pride and joy his grandchildren Stephen, Brandon, Lucas, Jessica and Chelsea; brothers Levi Clark (Maria) of Edmonton, AB and Terry Power of Mortier; sisters Cathy (Chris) of Edmonton of AB, Julie (Dave) of Georgetown; brother-in-law Bill Youden of Georgetown plus a large circle of other family and friends.
Predeceased by his mother Mildred, sister Stella and several other family members of the Francis and Noseworthy Family.
Family will be accepting family and friends at Serenity Funeral Home, Burin on Monday and Tuesday from 10am to 9pm.
Funeral Service to take place on Wednesday, December 18th at 12pm from St. Andrew's Church, Port au Bras.
In keeping with John's wishes Cremation will follow.
John spent his career working with Fishery Products International and recently with Town of Burin. John was a great man, pop, friend, second dad, coworker to many some even say they broke the mould when they made him. He always had a smile on his face and enjoyed a laugh and was a man who would give you the shirt off his back if you needed it. His door was always open. He loved life and lived it to the fullest with his carefree attitude. He sure had a way with words as many appreciated.
In John's Memory flowers gratefully accepted or donations to the family.
Thank you to the doctors and nurses of the ICU, Health Sciences Centre for the compassionate care of my husband, father and grandfather. Especially Dr. Noel, Dr. O'Brien and Dr. Boone. Nurses Jill, Laura, Michelle,Boyd, Sheldon and Sue.
"A Golden heart stopped beating. Hard working hands to rest. God broke our hearts to prove to us he only takes the best."