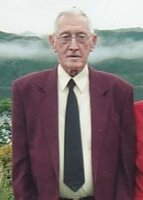 Edgar Raymond Dicks
It is with great sadness the family of Edgar Raymond Dicks of Creston South (formerly of Red Harbour) announces his passing at Burin Peninsula Health Care Centre on Tuesday, March 13, 2018 at the age of 89 years.
Leaving to mourn with loving and precious memories; wife Effie Grace Dicks of 67 years; sons Chesley Dicks (Carol) of Ontario, Edgar Gordon Dicks of Creston-South and Tony Berkley Dicks of Ontario; daughter Lillian Laura Burns (Lorne) of Ontario; grandchildren Angela Pauline, Ashley Marie, Berkey Ryan, William Raymond, David Richard, and Jessie Aaron; great-grandchildren Tiffiny Louise, Mayze Grace, Gloria Grace Pearl, Willow Anne Marie, Maddoc Raymond Johannes and Suzana May; sisters Sylvia Brown, Kay Legge (Junior), and Elsie Murphy (Kevin); brother Cecil Dicks (Evelyn), Bert Dicks (Nita) and William Dicks (Brenda) plus a large circle of other family and friends.
Predeceased by parents Hubert and Lillian Dicks.
Family will be receiving family and friends from Serenity Funeral Home, Burin, Thursday, March 15th, 2018 & Friday, March 16th, 2018 from 1-9PM.
Funeral Service to take place from Calvary United Church, Creston-South on Saturday, March 17th, 2018 at 2pm with interment following at United Cemetery, Creston South.
Donations in his memory may be made to Calvary United Church, Creston South or flowers gratefully accepted.
Funeral arrangements were entrusted to Serenity Funeral Home, Burin.