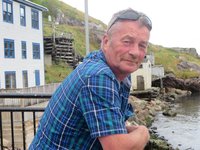 Gary Antle
It is with broken hearts and great sadness that we announce the passing of our dear Gary on his 60th birthday February 28, 2018 at Burin Peninsula Health Care Centre.
It was a lengthy and hard fight, but he kept his sense of humor to the very end.
He is predeceased by his daughter Lyndsey, his parents Clayton and Carmel and his brother-in-law Glen Kirby.
Leaving to mourn with loving and precious memories his wife Wilma, daughter Courtney (Scott) & her mother Gwen Antle (Leo), sisters Pauline (Glenn) of Burin, Brenda (Don) of Ottawa, Joan (Craig) of St. John's and fourth sister Jacquie (Dominic) Burin, as well as a large circle of family and great friends.
Visitation will be held on Friday, Saturday and Sunday from 1-9 PM at Serenity Funeral Home, Burin.
Funeral mass will take place at St. Patrick's RC Parish Church, Burin on Monday, March 5, 2018 at 11AM with interment following at RC Cemetery, Fox Cove.
Donations may be made to the family in lieu of flowers.
Funeral arrangements have been entrusted to Serenity Funeral Home, Burin
I may no longer see you with my eyes or touch you with my hands, but I will feel you in my heart forever.